Start of the main race at 11am
CRAFT Brno Half Marathon | Ten | five
Velodrome Brno Sunday 16/4/2023
 Start of the main race 11:00 (Start of children's races at 10:00)
This year's 10th CRAFT Brno Half Marathon will again be broadcast live via the TV COM – https://tinyurl.com/2jlvsfjt server. 
Pick-up of numbers:
Friday, April 14, 2023 from 11:00 a.m. to 5:30 p.m. in the Running Special at Gorkého 40, 602 00 Brno
Saturday, April 15, 2023 from 9:00 a.m. to 2:00 p.m. in the Running Special at Gorkého 40, 602 00 Brno
Sunday, April 16, 2023 from 8:00 a.m. to 10:30 a.m. at the start and finish point – velodrome Křížkovského 416/22,  603 00 Brno
Program of the race day at the velodrome:
08:00 – 10:30 Registration and issuance of numbers on the spot (end 9:30 for children's runs)
10:00 Joint start of children's and junior races at the velodrome (2 or 4 rounds)
10.30 Announcement of children's runs
10.30 Composition of competitors of the main race to the start
11.00 Common start of half marathon, tens, fives and relays
11.18 Expected finish of the winner of the five
11.35 Expected finish of the winner of the ten
12.15 Expected finish of the winner of the half marathon
13.30 Expected announcement of results,  decorating the winners of each category
Important information:
The route of the race is more rounds – half marathon four wheels, ten two wheels, five one lap In each circuit there is a refreshment station – water, ion drink, bananas

After finishing at the finish, each participant (including children) will receive an original commemorative medal and refreshments (water, cider, ion drink, cake, banana, apple).

The starting number is not returned! Please pay close attention to the weather forecast and adjust your drinking regime and clothing accordingly. It should be cloudy and running pleasant 10-12 degrees.

Read the rules and propositions in detail.

You have a measuring chip on your starting number. Do not fold it or squeeze it. At the front, you also have the contact details of our rescuers. In case of any medical indisposition of you or your fellow runners, call.

List of participants can be found HERE – https://tinyurl.com/23rgcqeg. For parking, use the parking house in close proximity to the velodrome or the parking lot on Křížkovského and Bauerova streets. Do not park on the road around the velodrome – you will run on it!!!

Changing the order of sections or changing the names of runners is your decision and you do not have to notify us. Important is the order of starting numbers – sections. The corridor for the handover of sections will be marked.

Please do not move with your starting number near the target measuring gate. The chip may be read randomly. Thanks.
When picking up starting numbers in our ACSPORT. CZ Running Special you can buy sports equipment at bargain prices.
4/15/2023 – All information about the race is on this page. Just click on the bookmark above this text. All entrants by Friday received an e-mail with this text. Please read this information carefully. Now we are going to go to the track. We look forward to seeing you tomorrow!!!
4/13/2023 – On Friday you will be able to pick up your starting number. We recommend everyone to choose this or Saturday date. Avoid pre-start stress. You do not need a power of attorney to pick up numbers for your partners or friends. It is enough to know the exact name.
4/10/2023 – We wish everyone a beautiful and peaceful Easter Monday. On Tuesday we will send out important information before the start of the race. Check also spam or bulk where this mail could fit. We will also publish the information on the website and on our Facebook page.
09/04/2023 – What can you find on the starting number?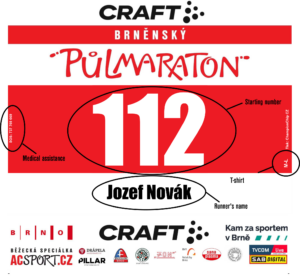 07/04/2023 – We are preparing the race also on festive days. There is no time to waste! We are preparing graphics of starting numbers, preparing material for the race and also the last check of the location of the organizers and securing the track. All so that you feel safe next Sunday and enjoy the race!
4/03/2023 – Live broadcast from the race can be found on the TVCom.cz server at the following address: https://tinyurl.com/2jlvsfjt
3/29/2023 – In the week before the race, we will send important pre-start information by e-mail. Please set our domain to trusted or check the spam and bulk folders. We will also publish information here on the website and on our facebook.
3/28/2023 – There are already more than 500 entries, including relay runs. Thank you and we take it as a commitment to prepare the race as best as possible!
3/20/2023 – Frequently asked questions:
What if I can't take part in the race? Will you refund my entry fee?
The paid entry fee is non-refundable according to the propositions.
Is it possible to transfer the entry fee to another competitor?
Yes, the entry fee can be transferred once to another name. You must do so by 10/04/2023. The procedure is described below on this page
I have another question.
Write to us at info(@)behejbrno.com.
3/20/2023 – You have surely noticed that the construction of the multipurpose hall continues. Thanks to the understanding of Firesta, IMOS and also BVV, we obtained permission to run along the road to Hall Z. On the date of the race, however, a larger part of Bauerova Street will be under construction. The alternative part of the route through the exhibition centre will certainly not be boring for you. You can also look forward to places that you do not have a chance to explore during normal operation.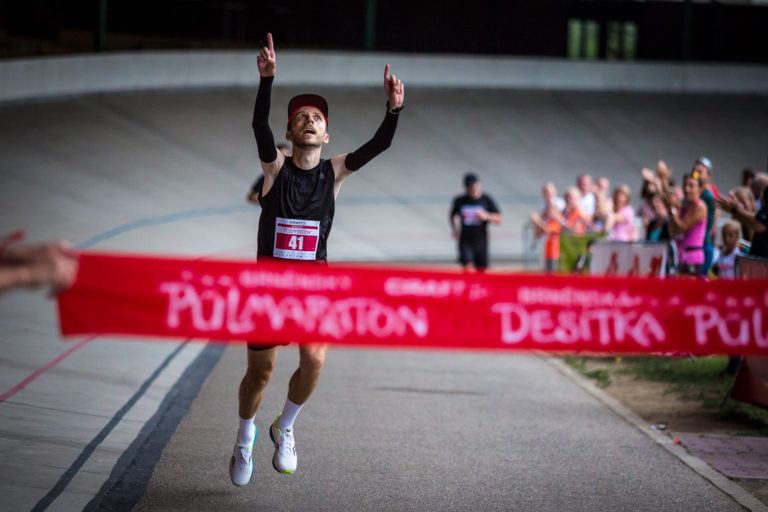 Race route and altitude profile
The entry fee includes complete provision of the track, timekeeping, refreshments on the track and at the finish. Furthermore, changing rooms, toilets and other services not specified here by the organizer, which will be spent on the proper preparation and running of the race.
Limited series of participant t-shirts
Take your marathon experience with you in the form of a limited series of participant T-shirts. You can order a women's or men's cut for 690 CZK / 28 EUR. Order together with registration for the race or in our e-shop ACSPORT.CZ. Valid only for paid registrations until March 15, 2024. 
CRAFT Brněnský půlmaraton | Brněnská desítka
Titulární partner:

Za podpory:
Závod se koná pod záštitou primátorky statutárního města Brna JUDr. Markéty Vaňkové.
Další partneři:
Poháry a medaile navrhl a vyrobil atelier ORIGINAL JEŽEK, výrobce a dodavatel turistických píšťalek a keramických suvenýrů, sportovních a trofejních medailí a pohárů.